State of Colorado issues new Construction General Permit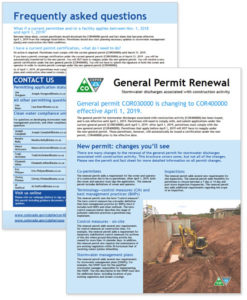 The State of Colorado has a permit with the US EPA that allows the state to manage its own stormwater program for construction sites. This permit renews roughly every five years (bit of a delay this time around).
The new permit is finalized as of November 1, 2018 and goes into effect April 1, 2019. Individual projects in Colorado then must conform to the State's guidance, so it is important for project owners to be aware of changes in the permit.
As a service to our clients and readers, Summit is providing this summary of key points to track and manage during this transition period, and as the new Colorado General permit requirements come into play. We also provide a link to a very good FAQ sheet published by the Colorado Department of Public Health and Environment.
How Will the Transition be Handled?
Permittees that have a current permit between November 1, 2018 and April 1, 2019 should download the COR400000 permit and fact sheet that becomes effective on April 1, 2019.  Permittees should also start planning necessary updates to the stormwater management plan and construction site field conditions.
If you have a permit coverage certification under the current general permit (COR030000) as of March 31, 2019, you will be automatically transferred to the new permit. You will NOT have to reapply under the new general permit. You will receive a new permit certification under the new general permit (COR400000) on April 1, 2019. You will not have to submit the signature of both the owner and operator in order to receive permit coverage under the new general permit (COR400000).
As of April 1, 2019, all permittees must comply with the new Colorado general permit (COR400000). All permittees' stormwater management plans and construction sites need to comply with the new general permit by April 1, 2019.
After April 1, 2019, all permittees must comply with the new Colorado general permit (COR400000) via the Colorado Environmental Online Services (CEOS).  Paper applications will no longer be accepted without a waiver. After April 1, 2019, permittees must use CEOS to modify permit coverage, such as changing the site map or contacts.
What are the changes?
The attached FAQ sheet from the Colorado Department of Public Health and the Environment is very good at pointing out the major changes. We don't need to revisit everything they've already written up. However there is one to watch and highlight for our clients and readers.
Under the new permit, projects will have the option of choosing between two different inspection frequencies. One is the bi-weekly schedule with the additional requirement to perform post storm event inspections. This matches the current State requirements. The second choice is to perform weekly stormwater inspections, and this does NOT come with a post-storm requirement.
We think this may be of interest to some of our clients because of the predictability of the weekly schedule. As a third party inspection company, we would potentially benefit because we currently have to build margin into our schedule to allow for unexpected storm events. We are looking into whether we could reduce our per inspection pricing with the hoped for predictability.
Is there a catch?
Well, not a catch, but there is some uncertainty about whether cities and counties will follow suit. For example, the City of Denver and City of Aurora both currently require weekly inspections AND post storms. If they keep their requirements in place, then it doesn't really matter that the State has a more flexible option.
If you own a project you may be wondering why the more strict city/county requirements will set the standard. The answer is that the State permit sets the minimum requirements. All cities and counties must at least meet those State of Colorado standards. But the State does allow the cities and counties (who each have their own permits with the State, by the way) to establish more strict policies. If we see any changes in the city/county requirements to allow weekly inspections with no storm events, we will let you know.
Summary
We think the State FAQ on this topic will answer most of your questions, but if you don't want to wade through it, or if you want Summit's help updating your documentation, please give us a call at 800.540.7967. That's what we do!
Download FAQ Sheet